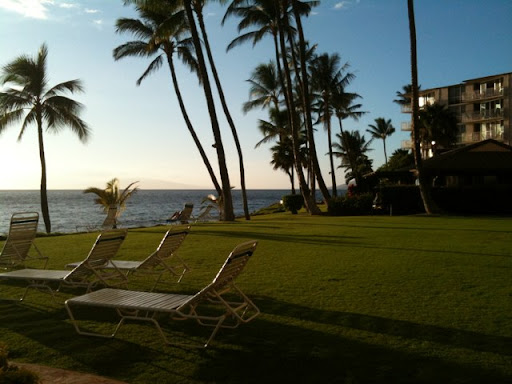 Ahhhhhhhh. We've landed back in Heaven, we'll as close to Heaven as you can get on earth, at least in our minds. And which, by the way reminds me of the title of a very enjoyable book, titled "Born in Paradise". Sorry, I can't remember the author's name and am too lazy to look it up at the moment. Interesting read and autobiographical account of growing up on Maui at the turn of the century on one of the big cattle ranches on Haleakela.
But I digress. Yesterday, after a long and somewhat bumpy flight we landed on our beloved Maui once again after 3 long years! We've returned to the Hale Pau Hana which feels like home after so many visits. The kids were wild to get their swimsuits on and jump into the pool, so that's what we did, followed by our first walk on the beach, which turned into the first romp in the waves. Alyssa was truly loving every minute of it and I'm so sorry I didn't have my camera or phone with me. She was running into the waves with her arms stretched out above her head screaming at the waves "You love me!!! You love me!!" and then throwing herself into them. She even declared it "awesome" when a big wave swamped her and went right over her head! It was like she was a crazy water sprite and couldn't get enough of the waves. We just watched her utter joy and laughed. It was a great, happy moment I just wanted to ingrain in my mind.
At the same time Tristan was digging in the sand like a little puppy wallowing in mud and water. He would dig in one spot, then run down the beach amd start digging in another spot. And then he would just run and run and run. He'd run away from us down the beach, turn around and run back right along the water line splashing and kicking up sand. Then turn around and do it again. Then go dig somemore in the sand. More precious memories I wish I could just hold forever in my mind.
We checked out the tidal pools (which Tristan gave a special name that I can't recall at the moment) and just thoroughly enjoyed just being in the moment and finally back in Hawaii again.
For dinner we just walked across the road for Thai take-out and had dinner with my parents and sister. The kids just wanted some cereal and ran around on the lawn playing hide-and-seek and then making hideouts with the lawn chairs and tables. Not long after 8:00, they had already crashed and we crashed ourselves shortly thereafter.